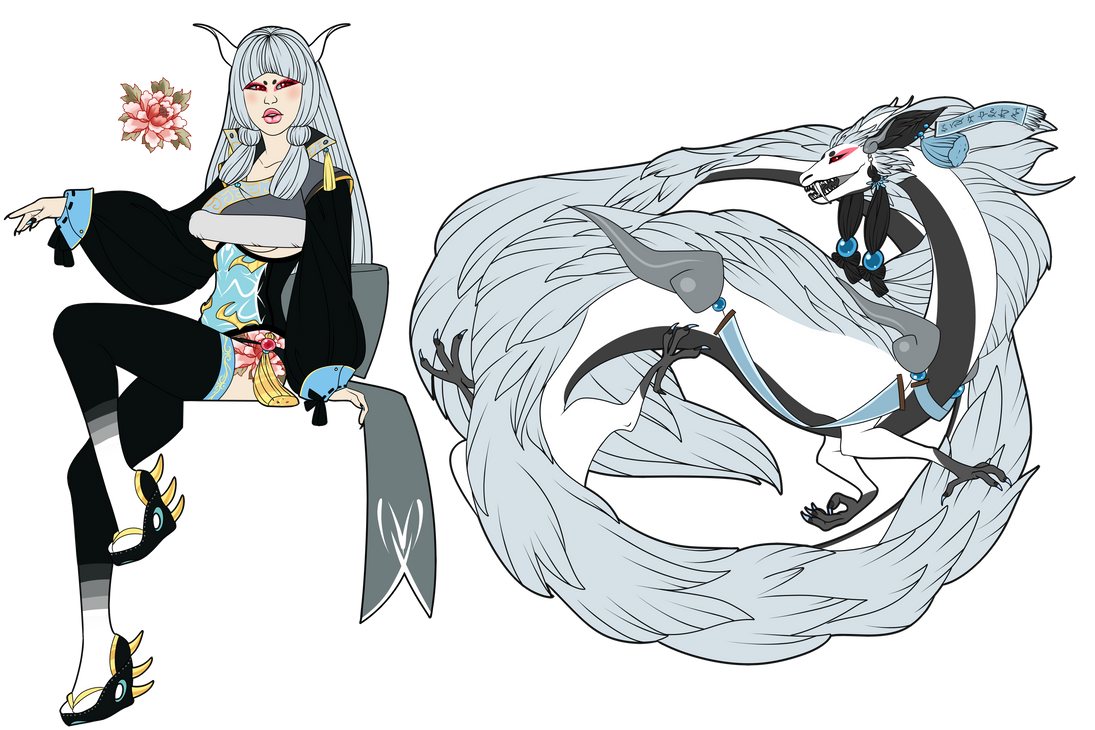 Character's Name:
Yukiji Watanabe
Nicknames:
Yuki
Age:
684
Gender:
Female
Species:
Eastern Dragon
Abilities:
Close Combat:

Though small in size, this dragon has a variety of skills taught to her as she was growing. Through claws, teeth, and magic, she is easily able to defend herself if the situation need be. Humanoid from, she keeps knives well hidden from sight; usually around her brothel or even on her person. The serpent like body of her dragon from comes in quite handy as well, using it to wrap around an enemy and squeeze them into submission.
Air/Ice Magic:

Yuki is able to whip up giant gusts of wind along with the chill of winter itself; forming what is almost like a snow storm around another. Ice can form around their bodies, especially around the feet if she needs to be able to immobilize someone. 
Seduction:

As she owns a brothel, it would be silly if she herself wasn't the seductive type of person. She is more than comfortable with her sexuality and sex in general, as why she opened the business in the first place. Yuki can pry whatever she needs from someone, whether information or otherwise. It comes quite in handy. 
Personality:
Yukiji is not the kind of woman to hold back what she wants to say, or even when she wants to say it. She is usually the kind to always be cool and collected, finding no reason to become angry about little things; but anytime someone big comes about her temperature is surely will show like nothing else. The woman's rage can clearly be seen in her eyes and face, and with her ability with ice magic the room can drop quite a bit in temperature; creating an icy chill in the air.
These violent mood swings are usually kept the a minimum, used only when one of her workers are being harassed or she herself is as well. Anyone who works for her is allowed to refuse service from anyone if they need to. From those who are violent, harassing, or way too pushy. Sometimes those who are overly drunk and cause a hassle are met with the small woman's scorn. 
History:
Yukiji grew up in a very wealthy household and family, causing her to be raised to be quite the proper lady in the long run. As any child having grown into a wealthy household, she was practically given whatever she desired, even if she didn't quite have the need for it either. Little things here and there, trinkets, toys, and the like; all because she asked for it whenever she wanted something new, as if she just enjoyed the look and feel of things that weren't tarnished. 
The woman also grew up quite well educated in many subjects, in both books, myth, and the like; though she took more upon into the reading of things more than anything else. As she grew older, she became bored with the way he life was at that time. Things never pleased her and life seemed to grow more and more boring as the days dragged on. Eventually, when old enough, she left her home in search for something different. It wasn't much long until that she opened a business of her own; one that many people would find pleasure with as it became more into popularity. Sure, there are quite many a people who would find such an establishment sinful and wrong; but no being could surely deny their physical pleasures in life. It was not long after opening, that the place became very popular with the masses; many of them being weary travelers who sought to relax and have a nice time.